Photo: Arsenal announce signing of midfielder
Get up to date on Arsenal transfer news, injury updates, fixtures, not restricting reports on Arsenal Ladies and share your opinions on Goonerhead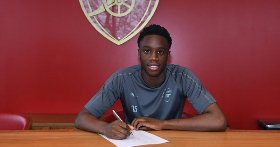 Aged 18, Olayinka has signed his first professional contract with The Gunners, eleven years after he joined the north London club.
Speaking after signing the new deal, Olayinka told arsenal.com : "It is a great feeling. I have been here for about 11 or 12 years now, so to finally get to this stage is a dream come true.
"It is a proud moment for me and my family".
Olayinka was a key member of the Arsenal U18 squad that faced Chelsea in the final of last season's FA Youth Cup, going the distance in both legs against the eventual champions.
This season, he has featured in the Premier League 2, EFL Trophy, U18 Premier League and FA Youth Cup.
You may also like...