Update On Mathias Ginter And Josip Drmic To Arsenal Rumours
It looked like Drmic's move to Arsenal was done and dusted, ready to delivered after German football czar Matthaus Sammer declared the Swiss striker would be joining Arsenal in the summer in a deal worth 8 million Pounds but there seems to be a little twist in the story as news making the rounds in German tabloid Kicker have it that Borussia Dortmund are set to throw their hat into the ring and rival the Gunners in the race to sign the highly rated striker.
Just like Arsenal, Dortmund are also in the market for a new striker. While Arsenal are looking for more firepower with reality dawning on Wenger that Giroud cannot last the whole haul, Dortmund are out to replace their star striker Robert Lewandowski who would be joining arch-rivals Bayern on a free transfer in the summer.
I take the reported interest of Dortmund with mixed feelings. Positively, it means Wenger is after a good player. Klopp is a very shrewd manager, he might not buy big names but his acquisitions are always very good a la Reus, Aubamenyang to mention just a few. If he has turned to Drmic, it means there is something good about the Nurnberg striker. I can't totally trust Wenger these days, some of his acquisitions have been poor to say the least but two shrewd managers cannot be wrong.
On the negative side, I just hope Arsenal don't loose him to Dortmund. Matthaus might say it is a done deal but history has proven that no deal is done for Arsenal until the player is unveiled. I hope Dortmund's reported interest in the striker would hasten Arsenal to complete and conclude all formalities. Arsenal cannot afford to be penny-wise and pound foolish. Nurnberg might try to set the stage for a bidding war and Arsenal shouldn't be reluctant to pay that extra cash if need be. We surely need a striker and it seems we have found a good one in the young Swiss striker.
Here is a screen capture of the Bild report.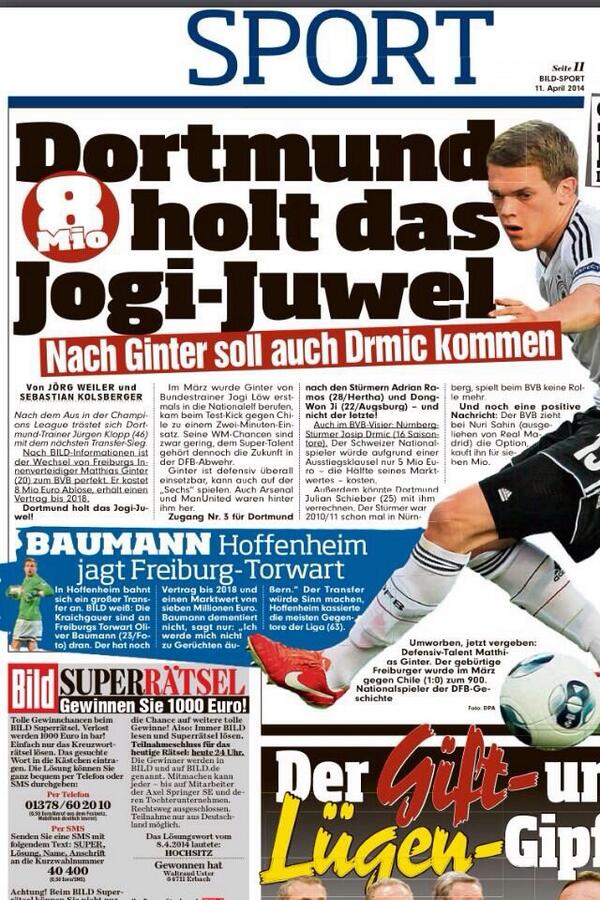 You may also like...